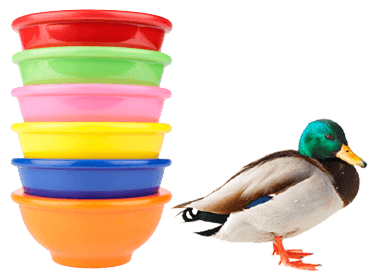 Weird Scholarship Requirements
When it comes to the world of scholarships, it seems that no requirement is off limits. As a matter of fact, the more unusual the scholarship itself, the more unique the submission requirements. Because of this, applicants needs to be ready for anything and fully prepared to accommodate any scholarship demands. Not everyone may want to comply with an unusual scholarship that has odd submission requirements--just the fact that you're willing to do this extra work will give you an advantage over potential competitors.
If you're ready to get weird, here are some unusual submission requirements for some scholarships that may be right up your alley.
Tall Clubs International
This club offers up to $1,000 to students under age 21 who are tall. The specific requirements are over 5'10" for women and taller than 6'2" for men.
Chick & Sophie Major Memorial Scholarship
Are you a skilled duck caller? Then this is the scholarship for you! Four financial aid scholarships valued from $500-$2,000 are awarded each year. Qualified applicants have ninety seconds to use four essential duck calls, including hail, feed, comeback and mating.
National Potato Council
This organization provides one $5,000 scholarship to a graduate level student who intends to pursue a line of study within the Agri-Business field that will enhance the potato industry. Submission requirements include proof past potato related studies.
The Vegetarian Resource Group
Commitment to a vegetarian lifestyle may qualify you for this $5,000 scholarship award that's given to two individuals each year. Submission requirements include proof of promotion of the vegetarianism, such as volunteer work, photographs or newspaper articles.
Shepherd's Award For Media
The American Sheep Industry Association has developed this scholarship for individuals who are active in covering sheep related issues in the media. Qualified applicants will need to provide evidence that they have covered sheep topics via local or national media outlets.
Tupperware US Inc Scholarship
If you're the child of a Tupperware employee or employed by Tupperware yourself, you may qualify for this $1,000 scholarship. This award is based upon both academic excellence as well as financial need. This program was initially developed to support the children of "Tupperware Ladies" who would host parties in their home.
Klingon Language Institute Scholarship
If you plan to study the Star-Trek language of Klingon in college, odd as that may sound, then you may qualify for this $500 annual award. The potential applicant need not be fluent in Klingon in order to qualify.
Carolina Quest Pagan Scholarship
If you consider yourself a Pagan, there is a scholarship for that as well. This annual $500 award is given to high school, undergraduate or graduate level students whose religion is Earth Centered and Pagan in nature.
Create A Greeting Card Scholarship
For the artfully inclined, this $10,000 scholarship requires the submission of an original greeting card. This should include the artwork or graphics for the front of a greeting card. This scholarship is sponsored by The Prudent Publishing Company in New Jersey. Qualified applicants must be at least 14 years of age.