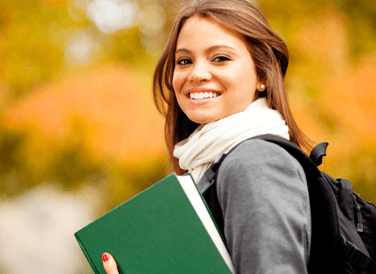 How to Get Into A Good College
If going to the college is the direction of choice, some preparation will be of tremendous benefit, whether the student is in middle school, high school, or 30-something and married with children.
There is compelling research almost everywhere which shows that the higher the level of education, the greater the income earning potential. A college degree doesn't guarantee a six-figure salary, mind you. But, to compete in today's job market, a college degree is essential.
What follows here is information that may be helpful to middle and high school-age students, their parents, and adults for whom college will become a component of daily life, whether as a student, or a student supporter.
SAT scores
For middle and high schoolers, sitting for the SAT exams is a fact of life. Do colleges and universities really look at your scores? You bet. Some schools weigh an applicant, lock-stock-and-barrel, on SAT scores. Other schools believe that scores on a standardized test don't tell the whole picture of the individual student, so other things are considered, like grade point average (GPA), extra-curricular activities, volunteer involvements, contest participations, and the like. These kinds of additional activities create what many say is a "well-rounded" student, and illustrates an ability to juggle varied time demands while maintaining focus on studies and learning.
Regardless, the higher the SAT scores, the better. You'll find links here that offer information on the SAT and ACT exams and how to prepare to take them with a successful outcome.
Advanced Placement Classes
What does this mean? These classes, referred to as AP classes, are college-level classes a high school student can take at a local college. Provided the final grade is acceptable to credit, the high school student can apply that credit toward what is needed for college graduation. As these are college-levels of study, they may be much more rigorous than a high-school class, and it is likely to be a much more student-centered class where the student must practice time-management skills and individualized learning. There is no teacher to prod with reminders of assignment due dates. The high school student gets an invaluable lesson in what will be expected of him or her in college.
How heavily do AP scores weigh on a college application? Some schools do look closely at AP grades, which normally are "weighted." On the final exam for an AP class, the student will earn a score that will be a number from 1 to 5, with 5 being extremely qualified for college placement and/or credit. A score of 1 means the student will not be recommended for credit or placement. That score is then "translated" into an A, B, C, D, or F. Admissions boards do take into consideration that the AP course is much more strenuous than the student's other high school courses.
In the eyes of some, AP scores are a good indicator of whether the student will be able to perform well in a college environment under the demands of college-level study. Others believe that the final score is of no indication of potential future performance.
There are some links that follow here regarding some schools' admissions process and where the final scores of AP classes fall in the big picture of the application process.
Importance of Good Grades
This may be a bit of a no-brainer. With poor grades, admissions boards are hard-pressed to make a case for accepting an applicant. From what the student has illustrated thus far, he or she is unable to perform in high school, so the college environment is one where he or she appears very unlikely to succeed. College credits are very costly, as are instructor salaries. Applicants must prove to be worthy investments.
So, how important are grades? In the links that follow, there is information that addresses that question. Where some colleges didn't place a lot of emphasis on AP test scores, or SAT test scores, or sports participation, the consensus is that a lot of emphasis is placed on grades.
How important are extra-curricular involvement?
That depends on the school, and you'll read that from the links that follow. For some schools, they don't matter in the least. For others, it goes back to the "well-rounded" concept mentioned earlier. Some high school athletes, however, who are particularly good at certain sports, will find they may have opportunities for athletic scholarship awards. This is money that is given, not loaned, to students in exchange for their commitment and a GPA of a certain minimum. In some cases, a scholarship can make college affordable for some students who would otherwise be unable to attend.
Adults and College
Adults are going to college, or going back to college, for individual reasons. For the majority, however, most have an economic basis. Employed adults are going back to school to update antiquated skills in a highly-competitive job market. The unemployment rate in the U.S. for 2011 has hovered at 9 percent. Unemployed or laid-off adults are changing careers. Others may need to earn higher incomes to support families or provide a better lifestyle for themselves or others.
Having a college degree creates the potential for greater employment earnings than for those without a degree. An advanced, or graduate degree, can mean even higher earning potential.
For adults who need to combine college with jobs, and also families, that can be a challenge. Thus, the growth of available on-line college courses, and corresponding enrollments in distance learning programs, has skyrocketed in the last few years, only to grow even more in the near future.
In the links that follow is information that adults might find helpful in transitioning back to college, and some other considerations for handling the tuition costs.
Finally, no matter what age, all students will benefit from helpful advice regarding college and making the most of the learning experience. There is something of value here for everyone.
Adults & College - Whether for a career change or to get an undergrad or graduate degree, more and more adults, of ALL ages, are going to college.
Students of All Ages - Here's a terrific site full of brief testimonials from adults in various stages of life who have wanted to go or go back to college…and DID!
Victims of the Economy - More adults are going back to school because their skills are no longer competitive, or they've lost their jobs. For people who fall into this group, some helpful thoughts are found here.
Nights & Weekends - When adults choose to go back to college, most times they are juggling work and family, and now are adding to what's already on their plate. Community colleges with night and weekend classes could allow some adults to comfortably fit class into their schedules.
Realistic Expectations - Here, you'll find a chart with common misconceptions, one being that by meeting the stands of high school will prepare a student for college. The reality is that adequate college preparation means going beyond a high school's minimum requirements.
Engineering Prep - If engineering may be a field of study in college, check out this site which gives some brief, but very straightforward info on what high school students should be doing in order to pave the way toward a college of engineering.
Ivy League - The Admissions website of Harvard College provides information on things to be doing in high school in order to best prepare for Harvard, or a school of similar caliber.
Structured SAT Prep -University of California, San Diego is one of many institutions that offers a course exclusively to prepare for the SATs. Read about this one, and then search for one in other geographic areas.
A Good SAT Score - This site has the answers to some common questions about the SATs, in general, with some ideas on how to properly prepare for taking the exams.
College Readiness - While some experts say SATs scores don't equate to college grades, other experts do believe that high SAT scores do indicate readiness for rigorous college study.
Practice for the SATs - Here is a link to the website for just about everything to do with the SAT exams - registering, testing tools you can buy or do for free by clicking on links here, and a lot of invaluable info for those preparing to take these standardized tests.
Test Questions - This site answers frequently asked questions about the SATs, such as what is the general format of the test, registration dates, and more helpful information.
Test Preparation - Find some sample ACT tests here in preparation for the real thing.
Economic impact - Read this article from U.S. News and World Report and the growing numbers of on-on-line college enrollment and learn to what this phenomenal growth is being attributed.
College On-Line - Another option for busy adults who want to go back to college is to take classes on-line. Many community colleges, and 2- and 4-year schools, as well as graduate programs offer on-line classes.
On-Line Convenience - Young or older adults enjoy the convenience that attending college classes on-line can offer when their schedules are already full.
Where to Start - Loaded with links that give all kinds of information, adults planning to go to college will find the answers to many frequently asked questions.
Transitioning to College - This school offers a program to high school students that helps them continuing earning credits toward H.S. graduation while simultaneously earning college course credits.
Middle Schoolers - It's not too early to think about college! Florida State University gives some advice to middle-school age youth and some things to think about when considering college.
College Competition - From 8th through 12th grade, these students will find valuable information on what schools like USC (University of Southern California) look for on college applications.
Criteria for Admission - University of Virginia has a great site here, with answers to a multitude of questions on college prep, in general, how to get into a school like UVA, and questions about its programs and services.
Summer On-Line - For those who have a full-time work schedule but want to be productive towards a degree, colleges all over the internet offer on-line classes during the summer.
Employer-Subsidized Tuition - Many companies and corporations will either completely pay for, or help their employees pay for, college courses that will assist them with their job functions.
How some TAPs work - Marylhurst University outlines its TAP program, which is straightforward about how the college courses are to be paid.
So What - This is a link to a study at University of California, Berkeley, which concluded that results in high school AP courses, while weighted heavily in college placement criteria, is not an accurate indicator of a person's potential college performance.
AP Eligibility - What many people don't know is that ANYONE can take an Advanced Placement course in high school. A successful grade can create college scholarship opportunities, too.
What's your Passion?! - This is a great site with 10 steps to getting into college, especially an engineering school. College admissions boards look at more than just your grades!
GPA - Here is a look at how important a GPA (grade point average) is when applying to grad school, which also can be applied toward undergraduate studies.
Play Time - Read the info on this web page and discover the benefits of extra-curricular activities and how they can impact high school grades.
Athletic Scholarship potential - College scholarships can make the difference for many students on whether they will be able to meet the financial demand of college tuition. This site is interesting, and gives some insights as to what high school athletes should be thinking about, and doing, to become a stand-out and vie for scholarship dollars.
Extra-Curricular Activities - How important are they when it comes to a college application? You can find out what Harvard has to say by clicking this link.