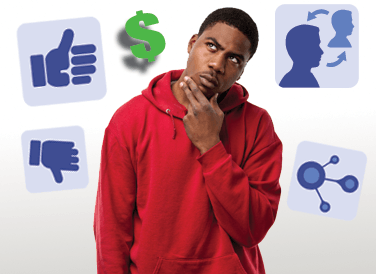 Can Your Facebook Profile Hurt Your Chances at Scholarships?
Many college-aged kids use social media for one purpose or another. Whether you Tweet about your favorite football team, use Facebook to keep in touch with friends or logon to MySpace to share vacation pictures, chances are that you have a consistent online presence on multiple sites. While you may think of social media as nothing more than harmless fun, it can actually impact your ability to get scholarships. The good news is that you can also use your Internet presence to your advantage by searching for scholarships to fund your college education. The bad news is if you don't manage your online presence effectively, then it will actually work against you.
If you're looking for a merit-based scholarship (e.g., athletics, student government, volunteerism), then having a strong online presence that highlights your achievements can help your scholarship credibility. There are a number of ways you can do this, such as posting pictures on Facebook of you accepting a volunteer award or Tweeting about your softball team winning a championship game. You can also write public blogs and notes about accomplishments that a potential scholarship committee may deem worthy. If you're majoring in the arts, take the time to have a sampling of your work available online for public viewing. Remember, many scholarship committees will now search for you online and they will take note of both positive and negative information.
You can also network for available scholarships through social media sites. This means reaching out to people and letting them know that you're on the hunt for scholarships. This searching net will reach as far as your friends and followers. Perhaps your cousin, uncle, neighbor, old camp pal or past employer can clue you in to financial aid opportunities that you never knew existed.
Make a search of your name online. If you see something that is troublesome, such as a public note about an embarrassing incident, work diligently to get the content removed. For your own site, set your account to private if you have concerns that your pages may be unattractive to others. Having a private profile on sites such as Facebook isn't just wise from a scholarship seeking perspective, but from a safety and privacy viewpoint as well.
It may be helpful in your college scholarship search to have a searchable webpage dedicated to you and your accomplishments. As long as this is properly maintained and done in a professional manner, it will go a long ways to helping pay your college tuition via scholarships.
Social media and an online presence can be extremely powerful in your quest for scholarships. As you take a multi-faceted approach to scholarship seeking, use this valuable tool while mitigating anything unfavorable that may hinder your credentials.